Explore Our Unique Programming
Wine dinners, game tournaments, movie nights, and more. Our mission is to offer more than just a comfy bed. Explore the unique programming coming soon.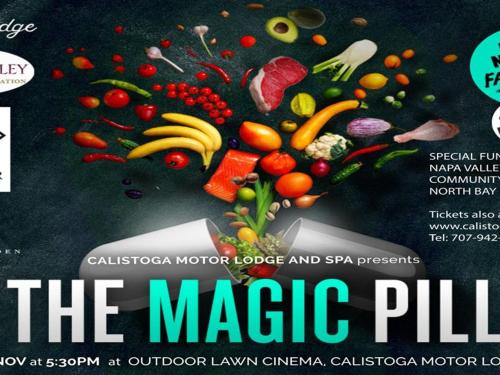 MOVIE SCREENING FUNDRAISER FOR THE NAPA VALLEY COMMUNITY FOUNDATION
UPDATE: It's with great sadness that we announce the cancellation of Thursday's movie night. Unfortunately, the weather isn't holding, and rainy skies and chilly breezes are in the forecast – certainly not conducive for an alfresco movie night. But rest assured, we will be rescheduling this event. We also have a host of other fun events planned to benefit our community, so watch this space!
Join us at the Outdoor Cinema at the Calistoga Motor Lodge and Spa for a community movie night to benefit the Napa Valley Community Foundation. 100% of ticket proceeds and wine sales are being donated to this great organization helping families and businesses affected by the wildfires.
Our version of a drive-in theater - in place of your car seat, we invite you to take-in an alfresco screening on our beautiful lawn. Rather than everyday movie snacks, we'll offer gourmet nibbles and wine pours (this is Napa, after all). And instead of the standard Hollywood fare, we've partnered with Fan Force to screen thought-provoking, indie flicks that utilize a unique fan-funded format.
On in November: The Magic Pill, an award-winning film that explores one side of the food as medicine debate. Wines provided by Von Strasser Winery and Brian Arden Wines.
Tickets $30 (including one glass of wine)
We hope to see you there!